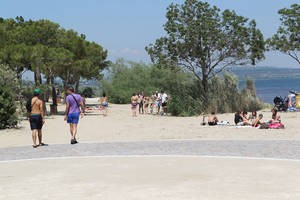 PLAGE DE LA ROMANIQUETTE, A SUMMER ON THE WARM SAND
Located to the east of the city, near the historic centre, Plage de la Romaniquette is a large budding beach (7,300m2), thanks to the quality of the area, view of the Étang de Berre and its convenient entrance. Its design and well-equipped area welcomes a large number of summer holidaymakers and provides a wide range of activities.

It has many wonderful facilities, providing absolute comfort and convenience:
- Car park with 50 parking spaces
- An educational trail through the reed bed, featuring the wetlands
- Picnic and game areas: bowls and beach volleyball
- Floating platforms anchored 2.5m deep for swimmers
- Handicap accessible entrance and parking
- First aid station and portable toilet facilities
- Bowling pitch and beach volleyball
- Beach library
Open to the public (supervised swimming) from June to September.
Beach library designed by Matali Crasset:
In partnership with Centre Design Marseille Provence, a beach library was made available on Plage de la Romaniquette. Boaters can take out books for free, from a selection of 350 works. Novels, comic books, publications and magazines for readers aged 7 to 77 were given to the town of Istres by the local public library to "feed" this beach library. Two assistants from the Tourist Office of Istres are available everyday from 11am to 8pm during July and August to run the library and assist readers with their choices.