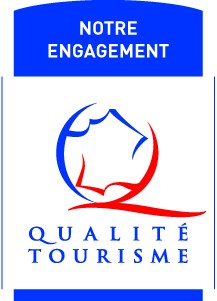 WHY A BRAND QUALITY TOURISM ?
To better you get and improve the quality of tourism services in France, the state created the brand QUALITY TOURISM ™.
This brand selects and brings together under one the quality initiatives undertaken to your satisfaction in hotels, tourist homes, holiday villages, campsites, restaurants, cafes and brasseries, seasonal rental agencies, offices tourism, visiting places and outdoor activities.
This is to provide you with a sign of recognition that allows you to confidently choose institutions that offer quality services.

The Tourist Office is committed to an approach based on quality and was therefore awarded the "QUALITÉ TOURISME" label in 2010. Receiving this label proves that the commitments encouraged by this approach were fulfilled in terms of reception and information as well as the services provided to our visitors.
VISITOR RECEPTION & INFORMATION
- The triple A rated Tourist Office guarantees extended opening hours: from Monday to Saturday from 9am to noon and 2pm to 6pm. From mid-June to late August the tourist office is also open on Sundays and public holidays from 10am to 1pm. Schedules are tied to local events all year around.
- Tour guides on multilingual trips are highly trained in order to give you the most suitable services possible.
- Brochures about France and neighbouring countries are also available.
- The Tourist Office is approved by the "Tourisme et Handicap" association (for visitors who are physically and mentally disabled, hearing impaired, blind and visually impaired).
- The Tourist Office is pet friendly a proud member of "Toutourisme"
- We provide window displays featuring local events, associations, etc.
- We are linked to several socio-professional organisations in order to stay informed and pass on information about the city.
- Information is available around the clock thanks to our interactive website and Facebook page!
TICKET OFFICE AND GIFT SHOP
- You can buy tickets to a variety of events directly at the Tourist Office: "Nuits d'Istres" (Nights of Istres), "Un été à Istres" (A Summer in Istres), "Fête des Bergers" (Shepherds' Festival), etc.
- Enjoy our great souvenir shop with a large variety of regional products on sale at the Tourist Office.
ADVERTISING & ANIMATING OUR TOWN
- The Tourist Office participates in many public trade fairs throughout France and abroad in order to promote the town.
- The Office's sales department offers days and turnkey trips for organised groups.
- The Tourist Office regularly organises Fam Trips to promote and advertise the town to its partners.
WE LOVE HEARING FROM YOU
- We provide you with satisfaction surveys and questionnaires in French and English
- Many tools were created so that you can give us your opinion: suggestion/comment book, guestbook, etc.